Past Event
Chinatown Walking Tour #4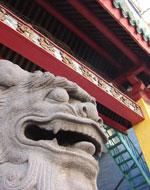 Wed, Sep 14 2011 - 2:00pm
Chinatown Walking Tour
This program is sold out. Another tour will be offered on November 9
Enjoy another Commonwealth Club Neighborhood Adventure. Join Rick Evans for a memorable midday walk and discover the history and mysteries of Chinatown. Explore colorful alleys and side streets. Visit a Taoist temple, an herbal store and the famous Fortune Cookie Factory. There is a short break for a tea sample during the tour.
Location: Meet at Chinatown Gate, corner of Grant and Bush, in front of StarbucksTime: 2–5 p.m. tourCost: $45 standard, $35 membersProgram Organizer: Kristina Nemeth Also know: Temple visit requires walking up three flights of stairs. Limited to 12 people. Participants must pre-register.