Past Event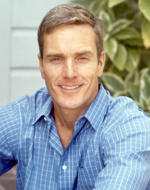 Tue, Sep 13 2011 - 6:30pm
The Good Among the Great
Advance ticket sales no longer available. Tickets will be available at the door.
Donald Van de Mark, Former Anchor, CNN and CNBC-TV; Author, The Good Among the Great
In conversation with Steve Falk, Lafayette City Manager
In more than 20 years of studying and profiling the politically powerful, the rich and the famous, Van de Mark knows all too well that not all newsmakers are exemplary people. Among the world's mega-successes, however, are a minority who are surprisingly aware, egalitarian, dutiful and happy. Their associates and staffs love them; their competitors respect them. These people care deeply about others and regularly use their positions to help the larger community. Van de Mark identifies the personality traits that these super high achievers share that allow them to remain great human beings, and talks about how we can apply these traits in our own lives.
Location: Lafayette Library and Learning Center
Time: 5:45 p.m. check-in, 6:30 p.m. program
Cost: $22 standard, $12 members, $7 students (w/valid ID)