Past Event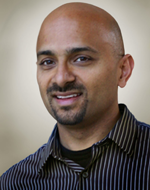 Tue, Aug 9 2011 - 6:00pm
Jai Ranganathan: An Incredible Success Story from the Farmlands of India
This program is postponed. Keep checking back for a new date.
Ph.D, Center Associate, National Center for Ecological Analysis and Synthesis, UC, Santa Barbara; Producer, "Curiouser & Curiouser Science" Podcast, Miller-McCune Magazine
Can environmental conservation and economic development go hand in hand? What will it take to improve the economic condition of the world's poor? The conventional wisdom is that environmental considerations stand in the way of the economic progress needed to better the lot of the poor. But what if the conventional wisdom is wrong? Ranganathan talks about an amazing story from the fields of India, where the environment and the prospects for farmers have advanced together. In the Western Ghats mountain range, one of the world's hotspots for unique species, the traditional agricultural practices used by local farmers have sheltered species and forests that would otherwise likely have vanished centuries ago. But this is not a charity operation, as these farmers have achieved astonishing economic success through their environmentally friendly agricultural methods. This case study shines a light onto a brand new way of jointly planning for rural uplift and environmental conservation in India and indeed throughout south and southeast Asia.
MLF: Environment & Natural Resources/Science & Technology
Location: SF Club Office
Time: 5:30 p.m. networking reception, 6 p.m. program
Cost: $20 standard, $8 members, $7 students
Program Organizer: Chisako Ress