Past Event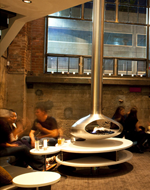 Wed, Jul 27 2011 - 6:00pm
Inforum's Drink & Think - Happy Hour at 25 Lusk
As summer is starting to heat (or fog) up and our recovery from last month's INFORUM happy hour is complete, this month's happy hour moves to Twenty Five Lusk. Lusk is one of San Francisco's most polished lounges, with an equally delicious cocktail and bar bites menu. Come out for an INFORUM specialty cocktail and a chance to connect with like-minded people from all walks of SF life. Plus, learn about some of our great upcoming events, such as Burning Man founder Larry Harvey, the San Francisco James Beard Award winners, and our ex-mayor-now-lt. governor, Gavin Newsom. Intriguing conversations always ensue, so we hope to see you there.
Location: Twenty Five Lusk, 25 Lusk (at Townsend St.), San Francisco, CA 94107
Time: 6-8 p.m.
Cost: FREE (no-host bar). Twenty Five Lusk will graciously extend a beverage special to INFORUM members and guests from 6 p.m. to 8 p.m.