Past Event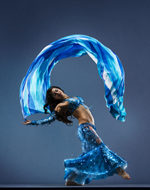 Wed, Jun 8 2011 - 6:00pm
The World Is Dancing
Julie Mushet, Ethnic Dance Festival Director
CK Ladzekpo, Festival Co-artistic Director
Patrick Makuakane, Kumu Hula, Na Lei Hulu I Ka Wekiu
Emiko Susilo, Director, Gamelan Sekar Jaya
Rita Felciano, Dance Writer and Critic - Moderator
San Francisco's June 2011 Ethnic Dance Festival continues a tradition representing the incredible diversity of ethnic cultures in Northern California. Performers past and present and a documentary video will examine the special ingredients that have created the largest, most diverse gathering of ethnic dance in the United States.
MLF: The Arts
Location: SF Club Office
Time: 5:30 p.m. networking reception, 6 p.m. program
Cost: $20 standard, $8 members, $7 students (with valid ID)
Program Organizer: Anne W. Smith
Also know: In association with World Arts West, Producer of Ethnic Dance Festival, http://www.worldartswest.org. Photo: RJ Muna.