Past Event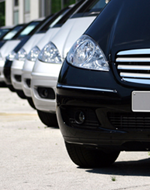 Thu, May 12 2011 - 10:00am
Pole Position
Forrest Beanum, Vice President of Government Relations, Coda Automotive
Oliver Kuttner, CEO, Edison2
Bill Reinert, National Manager, Toyota
Michael Robinson, VP for Environment, Energy and Safety Policy, General Motors
Dan Sperling, Member, California Air Resources Board; Professor, UC Davis
Will plug-in hybrids or pure electric vehicles get more traction with car buyers looking for cool and clean wheels? What are the tradeoffs of the competing technologies? What are the manufacturing and infrastructure implications? What policies and price signals would help advance all these technologies? Will bad consumer experiences tarnish the category? Join us for a conversation as EVs start to hit the streets.
Time: 9:30 a.m. check-in, 10:-11 a.m. program
Networking Break: 11-11:30 a.m.
Charge It?
Rob Bearman, Director, Global Alliances, Utilities and Energy, Better Place
Mike DiNucci, VP of Strategic Accounts, Coulomb Technologies
Jay Friedland, Legislative Director, Plug In America
Jonathan Read, CEO, ECOtality
What is the business model for supplying electrons to electric vehicles? Where should chargers be placed? Who should decide: policymakers or companies? Are charging companies dependent on subsidies? What do automakers think should happen? Are utilities ready for the load? A conversation with entrepreneurs in the juice business.
Time: 11:30 a.m.-12:30 p.m. program
Location: SF Club Office
Cost: $65 standard, $45 members, $15 students (with valid ID)
Also know: The speakers and audience will be videotaped for future broadcast on the Climate One TV show on KRCB TV 22 on Comcast and DirecTV.