Past Event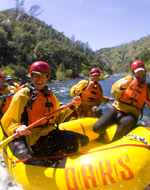 Sat, May 7 2011 - 8:30am
Tuolumne River Rafting Adventure
California's Water Issues
May 7 and 8, 2011
Designated in 1984 in its entirety as "Wild & Scenic," the Tuolumne is California's premier whitewater river. Join Inforum for a weekend river adventure, lively debates about California's water issues, and socializing by campfire. Experience heart-pounding Class IV rapids. Run Rock Garden and Nemesis before reaching Clavey Falls, the biggest rapid on our 18-mile trip. Journey though remote canyon wilderness, steep hills forested with oak and pine, and witness May's magnificent wildflower display. Spot eagles, ring-tailed cats, river otters and other wildlife. Study leader Dr. Sarah Null is an expert on river ecology and water use and will lead discussions about California's critical water issues. Learn the history of the Hetch Hetchy reservoir (which currently provides water to 2.4 million people in the Bay Area) and The Commonwealth Club's role in this contentious debate. To top it all off, you'll be treated to sumptuous wilderness picnics, relaxing by the river, and star gazing at night.
Our study leader, Dr. Sarah Null, is a researcher for the Center for Watershed Sciences at UC Davis and will lead discussions about California's critical water issues. She studies re-operation of water systems to improve efficiency, river restoration, dam removal and climate change impacts on water resources. Her research on removing O'Shaughnessy Dam was awarded 'best paper' in the Journal of American Water Resources Association, and was the basis for the Pulitzer Prize-winning series of editorials in The Sacramento Bee by Tom Philp. An outdoor enthusiast, she has also worked as a naturalist at Mono Lake and a ski patroller at Mammoth Mountain.
Details:
This is an adventurous 18-mile trip with Class IV rapids; some rafting experience is recommended. Minimum age is 16. Participants must be in active good health. Health and liability waivers must be signed in order to participate. Meet Saturday at 8:30 a.m. at our meeting point, 8 miles east of Groveland, approximately 3-3 ½ hours from San Francisco. Parking is free and you will be returned there on Sunday evening around 6 p.m. Meet our study leader, fellow rafters, and O.A.R.S. guides, then transfer to the river, gear up, get a safety talk, and head out on an incredible adventure! Most people opt to drive to Groveland on Friday night (May 6). Hotel and camping suggestions will be provided. There will be an optional gathering in Groveland at the Iron Door Saloon on Friday night. Limited to 18 people!
Location: Meeting Point is 8 miles east of Groveland, CA (just west of Yosemite National Park)
Time: 8:30 a.m. on Saturday – 6:00 p.m. on Sunday
Cost: $479 Members/ $499 Non-Members (deposit $125; balance due by March 4)
Includes O.A.R.S. river guides, all rafting equipment, wetsuit, splash jacket, 2 lunches, 1 dinner (with beer and wine), 1 breakfast, Club study leader and rep, pre-trip materials and river access fees. Bring your own sleeping kits and tents, or rent them from O.A.R.S.
Program Organizer: Kristina Nemeth, in partnership with Inforum
Also know: Call (415) 597-6714 or e-mail omarti@commonwealthclub.org for more information. If you are interested in a rideshare, we will try to partner you with someone, but this can't be guaranteed.