Past Event
Dr. George Szapary: Hungary's Ambassador to the U.S.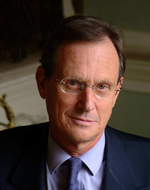 Wed, Apr 27 2011 - 12:00pm
Forging a Stronger Europe: Challenges Ahead for the EU
George Szapary, Ambassador of Hungary to the United States
In a career that has taken him from the IMF in Washington all the way to the upper echelons of Hungarian banking and government, Szapary has helped shaped the course of nations. With his country recently having assumed the presidency of the Council of the European Union, Szapary will take an inside look at the EU and the myriad challenges it currently faces.
Location: SF Club Office
Time: 11:30 a.m. check-in, noon program
Cost: $20 standard, $8 members, students free (with valid ID)
Also know: In association with the International Relations Member-Led Forum