Past Event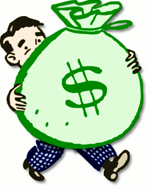 Tue, Jan 25 2011 - 6:30pm
The True Cost of Public Pensions: Reform or Bust?
Advance sales have stopped. Tickets available at the door.
Jon Coupal, President, Howard Jarvis Taxpayers Association
Joe Nation, Lecturer, Stanford Institute for Economic Policy Research
Roxanne Sanchez, President, SEIU Local 1021
Daniel Borenstein, Columnist and Editorial Writer, Contra Costa Times and Oakland Tribune – Moderator
California's financial situation is in shambles, and some pundits have identified the state's public-employee pension obligation as a central part of the problem. But what is the true cost of pensions to the state's structural deficit? Nineteen states reformed their public pension benefits in 2010. California has the largest pension system in the nation; is it now time for our state to reform our program too? Our panel of experts will share their views on whether pension reform is needed in California and how it should be done.
Location: Lafayette Library and Learning Center, 3491 Mt. Diablo Blvd., Lafayette
Time: 5:45 p.m. networking reception, 6:30 p.m. program
Cost: $12 members, $22 non-members, $7 students (with valid ID)