Past Event
Premal Shah: Social Entrepreneur Series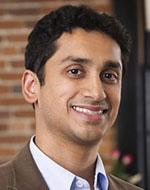 Premal Shah
Co-founder and President, Kiva
Kiva is the world's first person-to-person micro-lending web site, empowering individuals to lend directly to unique entrepreneurs around the globe. Combining technology with social issues in a way that allows mass participation in facilitating solutions, it inspires grassroot support for the financing of social alleviation projects. Kiva has generated extraordinary excitement and more than $100 million in small online loans that are reimbursed if the donor requests such an outcome. Says Shah: "What bummed me out was that microfinance is such a great tool to alleviate poverty and that there is a shortage of capital – but that there is no way for the average guy in the U.S. to invest in microfinance."
Series Director and Moderator: Dr. Ruth A. Shapiro
Location: SF Club OfficeTime: 5:30 p.m. networking reception, 6 p.m. programCost: $12 members, $20 non-members, $7 students (with valid ID). Social Entrepreneurship in America Series subscription: $135 members, $265 non-members.