Past Event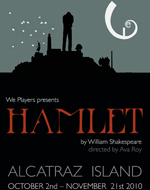 Sat, Nov 13 2010 - 3:10pm
Hamlet on Alcatraz
This program is sold out
Join Club members for a unique Bay Area theater performance on Alcatraz that is sure to sell out! In partnership with the National Park Service, We Players has staged a production of "Hamlet" by William Shakespeare, and directed by Ava Roy. Scenes are staged throughout the island – utilizing natural features and historic structures. The narrative path extends approximately 1.5 miles across Alcatraz and the performance journey will be approximately 4 hours from ferry departure to mainland return. The audience will have unprecedented opportunities to enter parts of the island regularly closed to visitors. In addition, the park's regular visitors will encounter performance environments throughout the island that will enhance their experience of the space and its history.
Location: Depart from Pier 33, Embarcadero, San Francisco
Time: 3:10 p.m. ferry (arrive at least 20 minutes early), return at approximately 7:30 p.m.
Cost: $65 members, $75 non-members, includes round-trip ferry passage and a pre-performance talk at the Club by director Ava Roy on October 20
Program Organizer: Kristina Nemeth
Also know: Tickets are not refundable, unless we have a waiting list. As with most theater tickets, if you can not attend you may give your seat to a friend. If you sign up for the performance you will be automatically registered for the pre-performance talk. If you know you can not attend the Oct 20 talk, please e-mail knemeth@commonwealthclub.org. This will allow others to attend.
PLEASE READ PERFORMANCE INFORMATION BEFORE MAKING YOUR RESERVATION