Past Event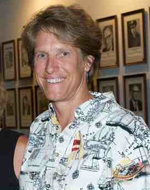 Thu, Oct 21 2010 - 6:00pm
The Farallon Islands
Terri Watson, Executive Director, Farallones Marine Sanctuary Association
Though visible on a clear day, few people have been out to the Farallon Islands, just 27 miles off our coast. The Farallon Islands and the Gulf of the Farallones National Marine Sanctuary are an important and biologically diverse ecosystem, closely connected to the health of our local environment and economy. Because of this rich marine life, the U.S. commerce secretary designated this ocean wilderness as a National Marine Sanctuary in 1981. Come learn about the natural history and wildlife of this extraordinary "national underwater park" and the islands within it.
Location: SF Club Office
Time: 6 p.m. program
Cost: Free to those registered for the October 30 One-day Farallon Islands Adventure; otherwise, $8 members, $20 non-members
Also know: Book our October 30 One-day Farallon Adventure and you will automatically be signed up for this event!