Past Event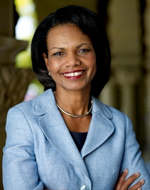 Mon, Oct 18 2010 - 12:00pm
Condoleezza Rice: Former U.S. Secretary Of State
Advance tickets sold out. Limited walk-up seating may be available at the event.
Professor of Business and Political Science, Stanford University; Senior Fellow, Hoover Institution; Author, Extraordinary, Ordinary People: A Memoir of Family
In her first public appearance since the publication of her new family memoir, Secretary Rice provides a rare glimpse at the experiences that have shaped her world outlook and discusses her views on current issues. Rice details her remarkable childhood, which began in the late 1950s, when Birmingham blacks lived in segregation, and continued through the '60s, when Rice saw her girlhood friends lose their lives to the bloodshed of the era. Rice was the 66th U.S. secretary of state and the first black woman to hold that office. She will talk about the people and experiences that have guided her on her path to occupying one of the nation's highest offices. Prior to serving as secretary of state, she was the first woman ever to serve as national security advisor, was provost of Stanford from 1993 to 1999, and served as the Soviet and East European Affairs advisor during the dissolution of the Soviet Union.
Location: Intercontinental Mark Hopkins Hotel, 999 California St. (at Mason)
Time: 11 a.m. check-in, noon program, 1 p.m. book signing
Cost: $15 members, $30 non-members, $7 students (with valid ID). Premium (copy of Rice's new book and seating in the first few rows) $60 members, $80 non-members.
Also know: Attendees may be subject to search. Underwritten by the Koret Foundation as part of the Principles of a Free Society Series.