Past Event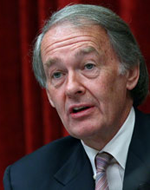 Fri, Aug 13 2010 - 12:00pm
Rep. Ed Markey: Cap and Fade?
Member of Congress (D-MA)
Now that the U.S. Senate has punted on an economy-wide climate bill, the future of any legislation limiting carbon pollution is in doubt. Will Congress manage to pass anything meaningful this year? A cap on emissions from electric utilities? Is it time for states, cities and corporations to light the way? What impact will California's upcoming election have on the national power debate? Join us for a conversation with a Washington insider who has a leading role in America's ongoing energy saga.
Location: SF Club Office
Time: 11:30 a.m. check-in, noon program
Cost: MEMBERS FREE, $20 non-members, $7 students (with valid ID)
Also know: The speakers and audience will be videotaped for future broadcast on Climate One's monthly program on KRCB TV 22 on Comcast and DirecTV