Past Event
Comedy Spanks Politics: The Truth Never Hurt So Good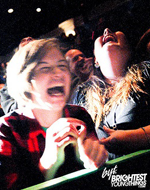 Wed, Aug 11 2010 - 6:30pm
Comedy Spanks Politics: Truth Never Hurt So Good
Marga Gomez, Comedian, Playwright and HumoristW. Kamau Bell, Standup Comic Marcella Arguello, Standup ComicJoe Garofoli, Political Writer, San Francisco Chronicle – Moderator
Part III in the SF Comedy Talks Series If Muni, the mayor or the general madness of the city has you feeling low, then come get a healthy dose of comedic relief. Comedy Talks is coming to SF this summer. It's a series bringing together industry legends for candid conversations, and INFORUM is getting a piece of the action. Our panel of SF's best up-and-coming comics will share their rants, raves and 'love to hates' on some of the major issues facing our generation. So if the lingering recession, an oily ocean or a particular character on Capitol Hill has brought you to your knees, then get ready to ROFL because comedians make even the most painful of truths hysterical. Location: SF Club OfficeTime: 6 p.m. check-in, 6:30 p.m. program, 7:30 p.m. networking receptionCost: $12 members, $20 non-members, $7 students (with valid ID)Also know: The event is being presented in partnership with Comedy Talks. Find out more about the Comedy Talks series here. Photo by Flickr user wumpiewoo.