Past Event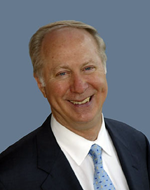 Wed, Jul 28 2010 - 6:30pm
Just Added! David Gergen: Will America Remain a Great Nation?
This program is sold out
Senior Political Analyst, CNN; Director, Center for Public Leadership, Harvard Kennedy School
Environmental catastrophe, economic uncertainty, international strife – where's America headed as it faces down these and other challenges? Hear an insider's view from the man with a front-row seat to history-making headlines. Gergen is a senior political analyst for CNN and has served as an adviser to four U.S. presidents. A professor of public service and the director of the Center for Public Leadership at the Harvard Kennedy School, Gergen got his start in public life as a speech writer in the Nixon White House. He went on to serve in the communications department for Gerald Ford and director of communications for Ronald Reagan, and as an adviser to Bill Clinton and to the 1980 George H.W. Bush presidential campaign.
Location: SF Club Office
Time: 5:45 p.m. networking reception, 6:30 p.m. program
Cost: $12 members, $20 non-members, $7 students (with valid ID). Premium (seating in first few rows) $30 members, $45 non-members.
Also know: Harvard Law School Alumni get members rate by calling (415) 597-6705 and identifying themselves as Harvard Law Alumni