Past Event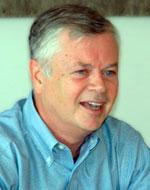 Mon, Jun 21 2010 - 6:00pm
Iran Beneath the Veil: Could It Become America's Partner?
Stephen Kinzer, Former Correspondent, The New York Times; Author, Reset: Iran, Turkey, and America's Future
Just returned from a trip to Iran sponsored by The Commonwealth Club, journalist and author Kinzer suggests that this ancient nation is not fated to be the United States' enemy forever. On the contrary, he argues that Iran and Turkey are the most logical long-term partners for us in that troubled region. Using the history of the last century as his guide and enriching it with what he has learned in decades as a foreign correspondent, Kinzer re-imagines the Middle East and America's role in it.
Location: SF Club Office
Time: 5:30 p.m. wine and cheese reception, 6 p.m. program
Cost: MEMBERS FREE, $20 non-members, $7 students (with valid ID)