Past Event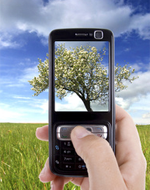 Tue, Jun 8 2010 - 6:00pm
Corporate Sustainability: A Sprint or Marathon?
Dan Hesse, CEO, Sprint

When every company claims to be a green leader, how can consumers know which ones really are? Hesse will share his insights on why sustainable growth is sound business and can offer a competitive edge in an industry expanding rapidly around the world. What are the energy and environmental impacts of the global wireless revolution? Sprint has introduced eco-friendly phones and placed in the top 20 of Newsweek magazine's 2009 Green Rankings of 500 U.S. corporations. How is it going to stay ahead of the green curve?
Location: Sheraton Palace Hotel, San Francisco
Time: 5:30 p.m. check-in, 6:00 p.m. program
Cost: Free; advance registration required.
Also Know: Presented in collaboration with the Corporate Eco Forum. The speakers and audience will be videotaped for future broadcast on the Climate One TV show on KRCB TV 22 on Comcast and DirecTV. Registration accepted until noon n June 8. We regret that walk-ins are not possible at this program. Thank you for your understanding.