Past Event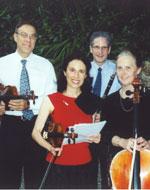 Mon, Mar 1 2010 - 6:00pm
Music: Can Philosophical Concepts Be Expressed Without Words?
Steven Machtinger, Attorney; Violist, the San Joaquin Quintet
Monday Night Philosophy presents both words and music to investigate whether music can express concepts without words. Machtinger and the San Joaquin Quintet will explore this question through the chamber music of Mozart, particularly the clarinet quintet he wrote late in his life. Steve's theory and the Quintet's performance will be followed by a Socratic dialogue with Hammond and an open discussion with the audience.
MLF: Humanities
Location: SF Club Office
Time: 5:30 p.m. networking reception, 6 p.m. program
Cost: MEMBERS FREE, $15 non-members
Program Organizer: George Hammond