Past Event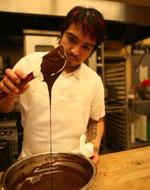 Tue, Dec 1 2009 - 6:30pm
The State of Pastry in SF

Luis Villavelazquez, Executive Pastry Chef, Absinthe Bar & Brasserie
William Werner, Executive Pastry Chef, Quince
Elizabeth Falkner, Executive Pastry Chef and Owner, Orson and Citizen Cake
Bill Corbett, Executive Pastry Chef, Michael Mina
Jessica Battilana, Associate Eat + Drink Editor, 7x7 - Moderator

The holidays are here and 'tis the season for warming hearts and bellies. Though the temperature may be dropping, the Bay Area's premier pastry provocateurs are rising to the occasion to satisfy your sweet tooth. Our panel of culinary artists will expand your sweet-smarts and your waistlines as they share the secrets of their custom confections and discuss the art of dessert design in the city. Join the sugar rush as these San Francisco pastry chefs from the likes of Quince and Citizen Cake dish on their incredible, edible art and serve up some pastry pointers that will last you longer than Grandma's fruitcake.
Our delicious discussion will be followed by a tasting reception where you can enjoy complimentary sweets from our chefs along with Mr. Espresso coffee and the Tenuta Vineyards port.

Location: SF Club Office
Time: 6 p.m. check-in, 6:30 p.m. program, 7:30 p.m. tasting and networking reception
Cost: $12 members, $20 non-members