Past Event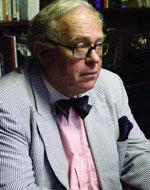 Thu, Sep 24 2009 - 6:30pm
Kevin Starr: California's Golden Dreams
Kevin Starr, University Professor of History, USC; State Librarian of California Emeritus; Author, Golden Dreams
Starr is a Golden State treasure and a leading expert on the history of the state's rise to glory on the national and world stage. This captivating storyteller will bring an unparalleled exploration of the cultural history of California in the postwar period of the 1950s. Illuminating the dominant economic, social, and cultural forces in California in these pivotal years, he will explore the genesis of the suburb, baby boomers, L.A.'s ascendance, Hollywood's influence, and the political changes that swept through the state. Don't miss this fascinating program.
Location: Lafayette Veterans Memorial Hall, 3780 Mt. Diablo Blvd. Lafayette
Time: 6 p.m. networking reception, 6:30 p.m. program, 7:30 p.m. book signing
Cost: $12 members, $18 non-members, $7 students (with valid ID)
Also know: Bookseller: Lafayette Bookstore. Photo by Jessica Marple.