Past Event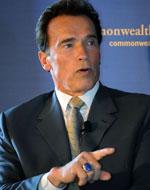 Thu, Sep 24 2009 - 6:00pm
California + China = A Cleaner World?
The Commonwealth Club Presents an Afternoon with the Governor
Governor Arnold Schwarzenegger will soon convene a global summit of governors from developing countries to advance the transition to a clean-energy economy. Before that happens, he'll be here for a discussion of California's role managing greenhouse gases, promoting green jobs and developing clean technology. Join us at the intersection of policy, politics and carbon for a conversation with the governor.
Location: Fairmont Hotel, 950 Mason St. (at California)
Time: 11:30 a.m. check-in, noon program
Cost: $12 members, $18 non-members, students free (with valid ID)