Past Event
Mike Farrell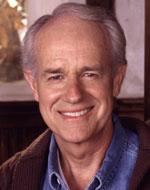 Wed, Jun 24 2009 - 7:00pm
Mike Farrell
Actor; Activist; Author, Of Mule and Man
In conversation with Brian Copeland
Best known for his eight years as Captain BJ Hunnicutt on M*A*S*H*, Farrell offers a thoughtful and honest account of his recent road trip across the country. Driving more than 8,000 miles with his only companion - a rented Prius he fondly nicknames "Mule" - Farrell reflects on his book tour and personal experiences while traveling for his best-selling memoir, Just Call Me Mike, last year. Along the way, he meets up with friends like Ambassador Joseph Wilson, Valerie Plame and other people who are working for social justice in their communities. One of Hollywood's most prominent activists, Farrell served on human rights and peace delegations to many countries throughout the world. In 2008, he was named "Person of the Year" by the Los Angeles Times.
Location: Cubberley Community Theatre, 4000 Middlefield Rd., Palo AltoTime: 6:30 p.m. check-in, 7 p.m. program, 8 p.m. book signingCost: $12 members, $18 non-members
MIKE FARRELL
Actor; Activist; Author, Of Mule and Man
In conversation with Brian Copeland
Best known for his eight years as Captain BJ Hunnicutt on M*A*S*H*, Farrell offers a thoughtful and honest account of his recent road trip across the country. Driving more than 8,000 miles with his only companion - a rented Prius he fondly nicknames "Mule" - Farrell reflects on his book tour and personal experiences while traveling for his best-selling memoir, Just Call Me Mike, last year. Along the way, he meets up with friends like Ambassador Joseph Wilson, Valerie Plame and other people who are working for social justice.