Past Travel
Journey to Cuba
A People-to-People Exchange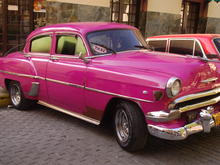 Sat, December 07, 2013
-
Sat, December 14, 2013
Through a series of meetings and guest speakers we learn about art, dance, medicine, history, education, religion and the economy. This is an extensive and intense learning experience built on the foundation of meeting Cubans and creating a meaningful exchange of ideas and information. Explore the old city as we learn about Havana's history and architecture. Meet with farmers and visit an artist community project in the Vinales Valley. See how small private enterprises are growing throughout the island. Converse with students during a visit to the premier art school in the country. Meet with dancers and learn about flamenco. Take a tour of the excellent Fine Arts Museum with an art historian who explains how politics and social concerns are communicated through art. Discuss U.S. foreign policy with Cuba during a visit to the U.S. Interests Section. Stay seven nights at the 5-star Parque Central Hotel in Havana. Join us for a private and exclusive program with the Commonwealth Club.

All participants must agree in writing to take part in the activities of the tour and abide by the license requirements set by the U.S. Treasury Department's Office of Foreign Assets Control.

Words from our travelers:

"Don't change a thing." – 2013 Cuba, Joyce Turley Nicholas

"Each stop was interesting and varied; which created an amazing mosaic of the complicated Cuban experience." – 2013 Cuba, Nikki Young

"The speakers were all great." – 2013 Cuba, Larry Friedman

"We came home with a much more nuanced understanding of the history of the region and, in particular, U.S.-Cuban relations." -Susan Milstein, 2012 Journey to Cuba

"Exceeded expectations." -Elliot Morrison, 2012 Journey to Cuba

"You provided an authentic cultural and historic experience. The current situation in Cuba was presented well and provided a rich experience." -Robert MacDonald, 2012 Journey to Cuba

"The Commonwealth Club always delivers." -Christine Gould, 2012 Journey to Cuba

"One of the things that surprised me in Cuba was the beauty, variety, and the unique creativity of the visual arts." - Bob Sessler, 2012 Journey to Cuba

"It was one of two trips in my life that was astounding." - Jo Wunderlich, 2012 Journey to Cuba

"This was our second trip with the Commonwealth Club – Antarctica and Cuba. I was impressed with both programs. Please keep up the great service." - James Bates, 2012 Journey to Cuba
Travel Cost:
$4,685 per person, based on double occupancy and including charter air from Miami to Havana. Single room supplement is $450.

Travelers should arrive to Miami the day before any program, so as to ensure making the charter flight to Havana on the first day of the trip. (Airport hotel information will be provided.)

Trip is limited to 25 travelers.