Past Travel
Legacy of the Silk Road
Uzbekistan & Turkmenistan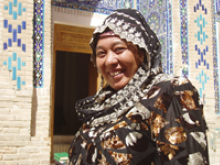 Sat, October 06, 2012
-
Sat, October 20, 2012
Much has been written about Central Asia's strategic location and its vast untapped reserves of oil and gas. See for yourself the fabled capitals of Silk Road commerce and survey their modern incarnations, arguably even more significant now than when they were at the center of the great trade routes. Join Ambassador John Ordway, as we learn about the Bukhara/Khiva region, with its 600 million barrels of proven oil reserves, and Ashkhabad, capital of Turkmenistan, said to control the fifth-largest reserves of natural gas in the world. Uzbekistan's UNESCO-listed Samarkand, Bukhara, and Khiva, with their rich histories and incredible architecture are still wonderfully vital today.

In Tashkent's Old Town, visit the private art studio of a sixth-generation Uzbek ceramicist. Discuss Central Asia's geopolitics and current affairs over lunch with a representative of the U.S. Embassy in Tashkent. Participate in an exclusive meeting with the Senior Advisor for Bukhara's Ark Museum. Meet students and faculty during a school visit, and learn about the educational system in Uzbekistan. Enjoy a walking tour, led by a Turkmen archaeologist, of UNESCO-listed Nisa, a major center of the ancient Parthian Kingdom. Experience traditional Central Asian music and dance and spend a morning exploring Ashkhabad's Tolkuchka Bazaar, a huge market brimming with traditionally patterned carpets, Turkmen jewelry and animals for sale.

Just announced - new study leader: Ambassador John Ordway is a retired Foreign Service Officer who is serving as the U.S. Commissioner to the U.S.-Russian Bilateral Consultative Commission under the New START Treaty. He served as Ambassador to Kazakhstan (2004-2008) and to Armenia (2001-2004). He was Director of African Affairs at the National Security Council during the first Bush Administration, as well as Deputy Chief of Mission at the U.S. Embassy in Moscow from 1999-2001. More recently he has served as the chargé d'affaires at several embassies, including the U.S. Embassy in Vienna, Austria; Sofia, Bulgaria; Kathmandu, Nepal; and Prague, Czech Republic. He returned to Kazakhstan and was chargé d'affaires at the U.S. Embassy in Astana from January to September 2011.

Born in California, Ambassador Ordway graduated from Stanford University and the University of California's Hastings College of Law. He has in-depth experience in a broad range of issues ranging from arms control and nonproliferation, to investment disputes and energy, as well as domestic politics and human rights. Ambassador Ordway has received numerous State Department awards. He was the runner-up for the 2008 Charles Cobb Award as the ambassador who had contributed the most to commercial diplomacy, and received awards from the American Chambers of Commerce in Russia, Armenia and Kazakhstan. He is a member of the Council on Foreign Relations. In addition to Russian, his languages include Czech, Italian, French, Spanish, German and basic Armenian and Kazakh.