Blog Archive
Oct 8, 2014 @ 1:47 PM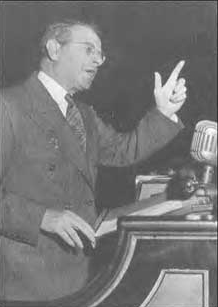 Today in Commonwealth Club history: "U.S. Labor and the War" was the topic of an October 8, 1941, speech by Sidney Hillman, head of the Amalgamated Clothing Workers of America.
Oct 7, 2014 @ 2:39 PM
This day in Commonwealth Club history: Former Ford and Nissan executive and then-U.S. postmaster general Marvin Runyon spoke about "America's Uncommon Wealth: The U.S. Postal Service" in his October 7, 1994, speech to The Commonwealth Club of California.
Oct 2, 2014 @ 2:32 PM
Twenty-seven years ago today at The Commonwealth Club of California: Mervyn F. Silverman, director of public health in San Francisco at the rise of AIDS in the late 1970s to the early 1980s, gave a speech at the Commonwealth Club on October 2, 1987, titled "AIDS: Causes, Cures Prevention."
A 1984 article in The New York Times reports that Silverman was under pressure to close down 14 San Francisco "gay sex clubs" due to concerns that they harbored potential risk of AIDS exposure and risky sexual conduct. At the time, The New York Times estimated that "15 percent of the city's population of 700,000 is homosexual."
Today, Silverman believes there is an air of relaxation about the disease because of access to medicine; however, he says its history as a "horrible death" shouldn't be disregarded.
"When I arrived in San Francisco, the Castro district … was a vibrant, dynamic place all hours of the day and night. By the early to mid-80s, it was funereal," said Silverman.