How We Learn
The Commonwealth Club of California Presents
HOW WE LEARN
THURSDAY, SEPTEMBER 18
7 P.M.
Benedict Carey, Science Reporter, The New York Times; Author, How We Learn: The Surprising Truth About When, Where, and Why It Happens; Twitter: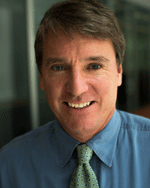 @bencareynyt
Jenny Dearborn, Senior Vice President and Chief Learning Officer, SAP – Moderator
What if almost everything we know about learning was wrong? With our brain sensitive to mood, timing, location and environment, how do we absorb and retain information? Find out more about whether repetition is necessary, why sleeping and daydreaming can be important to the learning process, and hear Carey's tips for the best techniques to remember more. Carey has been with The New York Times for 10 years and writes about neuroscience, psychiatry, neurology and everyday psychology.
Location: Schultz Cultural Hall, Oshman Family JCC, 3921 Fabian Way, Palo Alto
Time: 6:30 p.m. check-in, 7 p.m. program, 8:00 p.m. book signing
Registration