Upcoming Events
Tue 12/2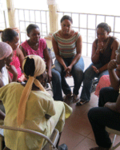 Haiti Five Years Later: Women on the Ground
Date:
Tue, December 02, 2014
Time:
6:30 PM
A panel of powerful women discuss Haiti
View More
Malya Villard-Appolon, Founder of KOFAVIV
Michèle Duvivier Pierre-Louis, Ph.D., Former Prime Minster of Haiti
Nicole Phillips, Esq., Attorney for the Institute for Justice & Democracy in Haiti
Megan Coffee, M.D., Ph.D., Founder of Ti Kay Haiti
Anne-christine d'Adesky, Journalist & Activist – Moderator
"Gason konn bouke, men pa fanm."—in Kreyòl
"Women's work never ends."
On January 12, 2010, Haiti was hit by a catastrophic magnitude 7.0 earthquake, killing approximately 150,000 people and crippling the nation. The earthquake and its 52 aftershocks exacerbated longstanding challenges of housing, sanitation, health care and gender violence. Five years later, Haiti is still picking up the pieces, often with women leading the charge. Hear the incredible stories of women on the ground, from Dr. Megan Coffee who went to Haiti to treat earthquake victims and never left, establishing and running a tuberculosis clinic in Port-au-Prince, to Malya Villard, a victim of rape in Haiti who boldly founded and now runs KOFAVIV to uplift victims of sexual violence, despite threats against her life for doing so.