Upcoming Event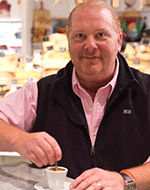 Sat, Nov 1 2014 - 7:00pm
Mario Batali, Chef; Co-Host, "The Chew"; Author, America – Farm to Table: Simple, Delicious Recipes Celebrating Local Farmers
In conversation with Michael Chiarello, Award-winning Chef and Owner, Bottega and Coqueta
Every ticket comes with Batali's newest cookbook, America - Farm to Table
Beef cheek ravioli with fresh squab livers and black truffles, bucatini all'Amatriciana with house-cured guanciale, farfalle with sun-dried tomatoes and arugula; these are just a few of Batali's signature dishes. He's a connoisseur of Italian cuisine who has made an indelible mark on America. Batali has traveled from Spain to London to the small northern Italian village of Borgo Capanne to master the art of Italian cooking. He now co-owns more than 25 restaurants, and has written nine cookbooks. As the star, host and resident chef of shows such as "The Chew" and previously "Iron Chef America," Mario brings celebrities, chefs and food together to explore and delight in life through food. We'll discuss Batali's latest book, America- Farm to Table: Simple, Delicious Recipes Celebrating Local Farmers.
Location: The Nourse Theatre, 275 Hayes St., San Francisco
View a seating map (link opens a PDF)
Time: 6 p.m. check-in, 7 p.m. program, 8 p.m. book signing
Notes: Chef Tyler Florence is no longer moderating – we're excited that Chef Michael Chiarello can join us. Food Lit event underwritten by the Bernard Osher Foundation. Photo credit Kally Campbell.
---
Food Network's Chef Mario Batali in Conversation with Chef Michael Chiarello
Sat, Nov 1 2014 - 7:00pm