Upcoming Event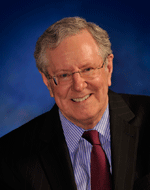 Wed, Aug 20 2014 - 6:00pm
Steve Forbes, Chairman and Editor in Chief, Forbes Media; Publisher, Forbes Magazine
Forbes Media publishes Forbes magazine, with a circulation of nearly 1 million readers domestically and 5 million worldwide. Steve Forbes was a Republican candidate for president in the 1996 and 2000 primaries. Here's a chance to hear him identify the current threats to the dollar and discuss how we can all increase our financial stability. As detailed in his new book Money: How the Destruction of the Dollar Threatens the Global Economy and What We Can Do About It, Forbes argues that since world governments took their currencies off the gold standard, money has gotten weaker and our wealth has been eroded. He predicts that this global devaluation of currencies could lead to a fiscal catastrophe as bad as the Great Depression or worse unless we do something about it now.
Location: SF Club Office
Time: 5:15 p.m. check-in, 6 p.m. program, 7 p.m. book signing
Cost: $25 non-members, $15 members, $7 students (with valid ID); Premium (includes seating in first few rows and copy of book): $55 non-members, $45 members
Also know: Part of The Commonwealth Club's series on Ethics and Accountability, underwritten by the Charles Travers Family.
---
Steve Forbes: Fighting Threats to Our Money
Wed, Aug 20 2014 - 6:00pm