Past Event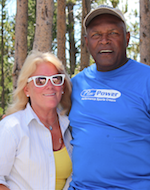 Tue, May 6 2014 - 7:00pm
This program has beeen cancelled
Michelle Lewis, Founder and Co-principal, Northern Lights School
Vida Blue, Cy Young Award Winner; American League MVP; Six-time All Star Pitcher, Oakland Athletics and San Francisco Giants
Poverty shouldn't mean academic failure, but it usually impacts both students' performance and the character of schools. The problem is not that poor kids cannot learn or that until we tackle poverty we won't be able to educate all children in the United States. There are increasing examples of how poor children achieve at high levels when innovative schools respond to their needs and create environments conducive to learning. Please join Michelle Lewis and Vida Blue as they discuss their impressive success at a small inner-city school in Oakland.
Michelle Lewis is the founder and co-principal of Northern Lights School and has worked in education for over 34 years. She is a passionate advocate for more than 200 graduates who have continued to seek college and graduate school degrees. Her school has been instrumental in guiding students whose socio-economic background suggest that they won't graduate from high school and are likely to become incarcerated by early adulthood.
Vida Blue is a Cy Young Award winner, American League MVP, three time World Series champion, and six time All-Star pitcher who debuted with the Oakland Athletics and finished his baseball career with the San Francisco Giants. Blue works for numerous charitable causes in the Bay Area.