Upcoming Event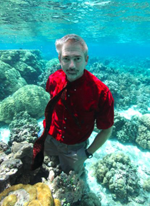 Wed, Apr 16 2014 - 6:00pm
Stephen R. Palumbi, Ph.D., Professor of Biology and Director of the Hopkins Marine Station, Stanford University; Co-author, The Extreme Life of the Sea
Anthony Palumbi, Writer; Co-author, The Extreme Life of the Sea
Stephen Palumbi, one of today's leading marine scientists, and his son Anthony, a writer, take us on an adventure to the absolute limits of the aquatic world – the fastest and deepest, the hottest and oldest creatures of the oceans, diving into the icy Arctic and boiling hydrothermal vents all while exposing the eternal darkness of the deepest undersea trenches to demonstrate how marine life thrives against the odds. He also discusses how ocean adaptations can inspire innovative commercial products – such as fan blades modeled on the flippers of humpback whales – and how climate change and overfishing could pose the greatest threats yet to our planet's tenacious marine life.
MLF: Science & Technology
Location: SF Club Office
Time: 5:30 p.m. networking reception, 6 p.m. program, 7 p.m. book signing
Cost: $20 non-members, $8 members, $7 students (with valid ID)
Program Organizer: Chisako Ress
Also know: Photo by Dan Griffin, GG Films
---
Stephen Palumbi and Anthony Palumbi: The Extreme Life of the Sea
Wed, Apr 16 2014 - 6:00pm
Note:
To receive a member discount, make your ticket selection above and click "Order Now."
At the bottom of the next page, enter your member ID number in the field at the bottom of the page. (Your member ID number can be found on your Club membership card.)
Family and Leadership Circle members are entitled to 2 member-priced tickets.
All other members are entitled to 1 member-priced ticket.
All ticket sales are final.