Upcoming Event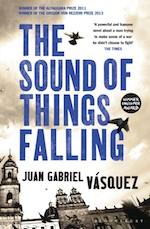 Mon, Apr 7 2014 - 5:30pm
The Sound of Things Falling gives us a vision of the drug culture unraveling a generation of Colombians, one life at a time. Soon after he gets to know Ricardo Laverde, disaffected young Colombian lawyer Antonio Yammara realizes that his new friend has a secret, or rather, several secrets. Shortly after their meeting, Ricardo is shot and killed on a street corner in Bogotá and Yammara is caught in the crossfire. Yammara's subsequent investigation harkens back to the early 1960s, a time of marijuana smuggling, years before the cocaine trade trapped a whole generation of Colombians in a living nightmare of fear and random death.
Location: SF Club Office
Time: 5:30 p.m.
Cost: $5 non-members, MEMBERS FREE
Program Organizer:
Barbara Massey
---
Book Discussion: The Sound of Things Falling: A Novel, by Juan Gabriel Vasquez
Mon, Apr 7 2014 - 5:30pm
Note:
To receive a member discount, make your ticket selection above and click "Order Now."
At the bottom of the next page, enter your member ID number in the field at the bottom of the page. (Your member ID number can be found on your Club membership card.)
Family and Leadership Circle members are entitled to 2 member-priced tickets.
All other members are entitled to 1 member-priced ticket.
All ticket sales are final.