Upcoming Event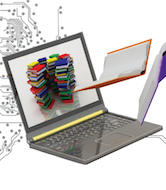 Thu, Mar 27 2014 - 6:30pm
Nicholas Carr, Author, The Shallows: What the Internet Is Doing to Our Brains
Zack Lynch, Founder and Executive Director, Neurotechnology Industry Organization; Author, The Neuro Revolution: How Brain Science is Changing Our World
Marilyn Walker, Associate Dean of Graduate Studies, Professor of Computer Studies and Head of the Natural Language and Dialogue Systems Lab in the Baskin School of Engineering, UC Santa Cruz
Barbara Marshman, Editorial Page Editor, San Jose Mercury News - Moderator
What are the intellectual and cultural consequences of getting information too fast? Are we losing our capacity for concentration and reflection as we become more adept to scanning and skimming information? Panelists will address these important issues and discuss the advantages and dangers of the digital information revolution.
Location: The Tech Museum of Innovation, 201 S. Market St., San Jose
Time: 6:30 p.m. program
Cost: FREE
Also know: In association with Silicon Valley Reads and The Tech Museum of Innovation
---
Unintended Consequences: Is Too Much Information, Too Fast, Too Much of a Good Thing?
Thu, Mar 27 2014 - 6:30pm
Note:
To receive a member discount, make your ticket selection above and click "Order Now."
At the bottom of the next page, enter your member ID number in the field at the bottom of the page. (Your member ID number can be found on your Club membership card.)
Family and Leadership Circle members are entitled to 2 member-priced tickets.
All other members are entitled to 1 member-priced ticket.
All ticket sales are final.