Upcoming Event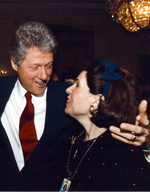 Wed, Mar 26 2014 - 6:00pm
Melinda Bates, Author, White House Story: A Democratic Memoir
The ultimate White House insider, Bates met Bill Clinton when they were freshmen at Georgetown University, and their friendship has survived the Clintonian vicissitudes of the decades since. After working on Clinton's 1992 campaign, Bates ran the Visitors Office for all eight years of his presidency. Now, she pulls back the White House curtains to reveal the celebrities, power brokers and political partiers who were the prime movers during Bill's and Hillary's 1993-2001 lease. Her insights remain relevant, especially since the Clintons' 2017-2025 lease is currently being offered up as a possibility.
MLF: Humanities
Location: SF Club Office
Time: 5:30 p.m. networking reception, 6 p.m. program, 7 p.m. book signing
Cost: $20 non-members, $8 members, $7 students (with valid ID)
Program Organizer: George Hammond
---
White House Story
Wed, Mar 26 2014 - 6:00pm
Note:
To receive a member discount, make your ticket selection above and click "Order Now."
At the bottom of the next page, enter your member ID number in the field at the bottom of the page. (Your member ID number can be found on your Club membership card.)
Family and Leadership Circle members are entitled to 2 member-priced tickets.
All other members are entitled to 1 member-priced ticket.
All ticket sales are final.