Upcoming Event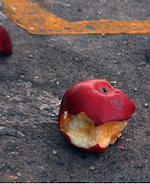 Mon, Mar 24 2014 - 6:00pm
Dana Gunders, Staff Scientist in Food and Agriculture, Natural Resources Defense Council
Nick Papadopoulos, General Manager, Bloomfield Organics; CEO and Co-founder, CropMobster
Dana Frasz, Founder and Director, Food Shift
Staffan Terje, Chef and Owner, Perbacco
Julie Cummins, Director of Education, CUESA - Moderator
A staggering 40 percent of the food produced in this country never gets eaten. Innovators are now finding ways to utilize, intercept and redistribute food that would have otherwise gone to the compost bin. Chefs are exploring nose-to-tail, root-to-stalk cooking. Nonprofits are sourcing from abandoned orchards and school cafeterias and delivering food to soup kitchens and food pantries. Consumers are learning that misleading expiration dates cause unnecessary waste. And technology-based solutions are emerging to match unwanted food with eager eaters. Join the conversation with researchers and visionaries on how to turn food waste into food resources.
MLF: Bay Gourmet
Location: SF Club Office
Time: 5:30 p.m. networking reception, 6 p.m. program
Cost: $20 non-members, MEMBERS FREE, $7 students (with valid ID)
Program Organizer: Cathy Curtis
Also know: In association with CUESA. Photo by Shooting Brooklyn.
---
Beyond the Green Bin: A Panel Discussion on Reducing Food Waste
Mon, Mar 24 2014 - 6:00pm
Note:
To receive a member discount, make your ticket selection above and click "Order Now."
At the bottom of the next page, enter your member ID number in the field at the bottom of the page. (Your member ID number can be found on your Club membership card.)
Family and Leadership Circle members are entitled to 2 member-priced tickets.
All other members are entitled to 1 member-priced ticket.
All ticket sales are final.