Past Event
Unpublished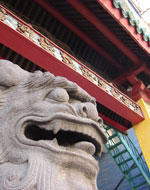 Thu, Feb 6 2014 - 1:45pm
Chinatown Walking Tour
Enjoy a Commonwealth Club Neighborhood Adventure. Join Rick Evans for a memorable midday walk and discover the history and mysteries of Chinatown. Explore colorful alleys and side streets. Visit a Taoist temple, an herbal store, the site of the first public school in the state, and the famous Fortune Cookie Factory.
Location: Meet at corner of Grant and Bush, in front of Starbucks, near Chinatown Gate
Time: 1:45 p.m. check-in, 2–5 p.m. tour
Cost: $45 non-members, $35 members
Also know: Temple visit requires walking up three flights of stairs. Limited to 12 people. Participants must pre-register. Tour operates rain or shine. Photo by H Sanchez/Flickr.