Upcoming Event
Week to Week Political Roundtable and Member Social 1/13/14
Mon, Jan 13 2014 - 6:30pm
Melissa Griffin Caen, Contributor, KPIX-TV and San Francisco Magazine; Attorney; Twitter @melgriffincaen
Josh Richman, State and National Politics Reporter, Bay Area News Group, San Jose Mercury News, Oakland Tribune, Contra Costa Times; Twitter @Josh_Richman
Joe Garofoli, Political Reporter, San Francisco Chronicle; Twitter @joegarofoli
John Zipperer, Vice President of Media & Editorial, The Commonwealth Club — Host
Additional panelists TBA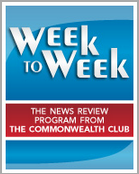 Join us for a new year of the Bay Area's premier political roundtable! Week to Week has become a must-attend socializing and political gathering. Join our panelists for informative and engaging commentary on political and other major news, audience discussion of the week's events, and our news quiz!
And come early before the program to meet other smart and engaged individuals, and discuss the news over snacks and wine at our member social (open to all attendees). The Club attracts the Bay Area's brightest and most connected to its stage and audience.
Location: SF Club Office
Time: 5:30 p.m. wine-and-snacks social, 6:30 p.m. program
Cost: $15 non-members, $5 members, $7 students (with valid ID)
Note:
To receive a member discount, make your ticket selection above and click "Order Now."
At the bottom of the next page, enter your member ID number in the field at the bottom of the page. (Your member ID number can be found on your Club membership card.)
Family and Leadership Circle members are entitled to 2 member-priced tickets.
All other members are entitled to 1 member-priced ticket.
All ticket sales are final.