Past Event
Mark Halperin and John Heilemann: Game Change 2012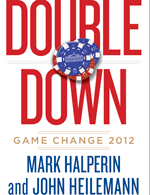 Wed, Nov 13 2013 - 6:00pm
This program is sold out. Library standing room is available for $10.
Mark Halperin, Editor-at-Large and Senior Political Analyst, Time; Co-author, Double Down: Game Change 2012; Twitter: @MarkHalperin
John Heilemann, National Political Correspondent and Columnist, New York Magazine; Co-author, Double Down: Game Change 2012; Twitter: @jheil
Melissa Griffin Caen, Political Analyst, "Mornings with Melissa," CBS SF; Political Writer, San Francisco Magazine; Attorney — Moderator; Twitter @melgriffincaen
John Heilemann and Mark Halperin set the national conversation on fire with their best-selling account of the 2008 presidential election, Game Change. Now, they apply their unparalleled access and storytelling savvy to the 2012 election, rendering an equally compelling narrative about the circuslike Republican nomination fight, the rise and fall of Mitt Romney, and the trials, tribulations and Election Day triumph of Barack Obama. Drawing on hundreds of interviews with the people who lived the story, Heilemann and Halperin offer a panoramic account of a campaign at once intensely hard fought and lastingly consequential.
Location: SF Club Office
Time: 5:30 p.m. check-in, 6 p.m. program, 7 p.m. book signing
Cost: General admission: $20 non-members, $12 members, $7 students (with valid ID). Premium (priority seating and copy of book): $50 non-members, $42 members.