Past Event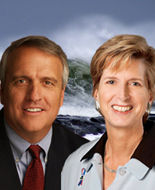 Wed, Jun 19 2013 - 12:00pm
Bill Ritter Jr., Former Governor of Colorado
Christine Todd Whitman, Former Governor of New Jersey; Former Administrator, U.S. Environmental Protection Agency
Hurricane Sandy and the devastating Colorado fires of 2012 underscore the idea that climate disruption is amplifying natural disasters, if not causing them. Sandy and other disasters last year caused more than $100 billion in damage. Politicians are grappling with who bears those costs and whether and how areas such as the Jersey Shore should be rebuilt.
What lessons do the fires and storms of 2012 present for other states? What does climate science say about the probability of similar disasters? Join a conversation with two former state chief executives about learning from recent disasters and marshaling political will to confront the climate reality.
Location: Montgomery Room, Hotel Nikko, 222 Mason St., San Francisco
Time: 11:30 a.m. check-in, noon program, 1 p.m. networking reception
Cost: $25 non-members, $15 members, $7 students (with valid ID)
Also know: The speakers and audience will be videotaped for future broadcast on the Climate One TV show on KRCB TV 22 on Comcast and DirecTV.