Past Event
Unpublished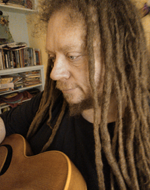 Tue, May 14 2013 - 7:00pm
Jaron Lanier
Founder, VPL Research; Author, You Are Not a Gadget and Who Owns the Future?
Virtual reality visionary and Internet pioneer Lanier provides his insight to what the new information economy will look like. Credited for coining and popularizing virtual reality research, Lanier's expertise in computer science, music and digital media helped him develop a profound understanding of technology and its impact on society. But with advancements come hardships, and according to Lanier, we are facing greater challenges than ever before. The rise of digital networks has not only forced our economy into recession but also put strains on the middle class. Technology has also flattened industries like manufacturing and media. So what needs to change?
Location: Oshman Family JCC, 3921 Fabian Way, Palo Alto
Time: 6:30 p.m. check-in, 7 p.m. program, 8 p.m. book signing
Cost: Regular: $20 standard, $12 members, $7 students (with valid ID). Premium (priority seating and copy of book) $40 standard, $40 members.
Also know: Photo by Lena Lanier