Past Event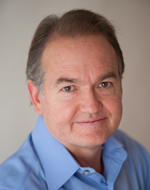 Mon, Apr 9 2012 - 6:30pm
John Gray: Men Are from Mars, Women Are from Venus, 20 Years Later

Tickets will be available at the door.

John Gray, Ph.D., Author, Men Are from Mars, Women Are from Venus and Venus on Fire, Mars on Ice
Joy Nordenstrom, Professional Matchmaker and CEO, Joy of Romance, Inc. – Moderator

Twenty years ago, Men are from Mars, Women are from Venus rocked the relationship world. Gray's practical approach to increasing respect and understanding between genders changed the way that many of us look at our partners as we navigated the murky waters toward romantic bliss. Now known as a heavyweight expert in the fields of communication and connections, the rights to Gray's first revolutionary work have been purchased by Summit Entertainment for a feature film and television series. In his most recent book, Venus on Fire, Mars on Ice, Gray again tackles intimate subject matter with an inside look at the connections between hormone levels and happiness. Join us as Gray dishes on the secrets of relationship success and provides the tools to make your partnership less rocky and more fulfilling.
Location: Lafayette Veterans Memorial Hall, 3780 Mt. Diablo Blvd. Lafayette, CA 94549
Time: 5:45 p.m. check-in, 6:30 p.m. program
Cost: $22 standard, $12 members