Past Event
From Smilla to Salander: An Odyssey in Translating Nordic Crime Fiction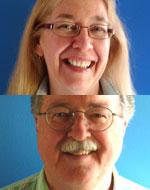 From Smilla to Salander: An Odyssey in Translating Nordic Crime Fiction
Steven T. Murray (a.k.a. Reg Keeland) and Tiina Nunnally, Translators, The Girl with the Dragon Tattoo
In conversation with Sedge Thomson, Radio Host, "West Coast Live"
Join us for a conversation with the top American translators of Scandinavian crime novels. They have been producing award-winning translations for books by authors like Henning Mankell, Peter Høeg, Camilla Läckberg, Mari Jungsted, and Stieg Larsson since 1984. Come find out how they make their linguistic decisions and learn more about the literary translation industry.
MLF: HumanitiesLocation: SF Club OfficeTime: 5:30 p.m. networking reception, 6 p.m. programCost: $20 standard, $8 members, $7 students (with valid ID)Program Organizer: George HammondAlso know: In association with the Center for the Art of Translation. To meet the authors and get books signed, attendees must attend the Center's VIP Reception, which requires additional admission. For details visit the Center for the Art of Translation website.