Past Event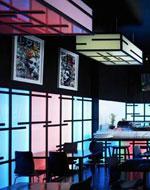 Wed, Aug 24 2011 - 6:00pm
INFORUM Happy Hour at Temple Lounge
With summer coming to a close and San Francisco's warm fall weather about to begin, it's time to have this month's INFORUM happy hour. This time we're going to the newly revamped Temple/Prana lounge. They're offering us some great drink specials ($3 draft beers and $5 cocktails). Most important though, come out to meet interesting, engaging people to converse and share delicious discourse. Don't miss it!

Location: Temple/Prana Lounge, 540 Howard St. (between 1st and 2nd st.)
Time: 6-8 p.m. happy hour
Cost: FREE entry (no-host bar). Prana will have several beverage specials for INFORUM members and guests from 6-8 p.m.