Past Event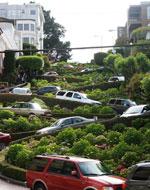 Wed, Jul 6 2011 - 10:00am
Russian Hill Walking Tour

This program is sold out
Join a more active Commonwealth Club Neighborhood Adventure! Russian Hill is a magical area with secret gardens and amazing views. Join Rick Evans for a two-hour hike up hills and staircases and learn about the history of this neighborhood. See where great artists and architects lived and worked, and walk down residential streets where some of the most historically significant houses in the Bay Area are located. 


Location: Meet in front of Swensen's Ice Cream Store located at 1999 Hyde Street at Union. Your best option is to take bus transportation (details below) or come by taxi. There is absolutely no parking on Russian Hill. (No parking lots or street parking). Muni: 45-Union Stockton will drop you off at the corner of Union and Hyde - right in front of Swensen's. Use www.nextmuni.com to determine bus stops and schedule. The tour ends about six blocks from the Swensen's Ice Cream Shop, at the corner of Vallejo and Jones. It is an easy walk down to North Beach from there.
Time: 10 a.m. – noon tour; our guide will point out nearby lunch spots after the tour
Cost: $45 standard, $35 non-members
Program Organizer: Kristina Nemeth 

Also know: Includes steep hills and staircases, recommended for good walkers. Parking extremely difficult. Limited to 20. Must pre-register. Photo by Flickr user miss_millions.