Past Event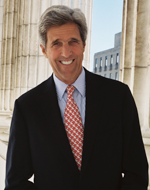 Fri, Apr 1 2011 - 12:30pm
Senator John Kerry
This program is sold out. However, keep checking back, as additional seats may become available. Additionally, this event will be streamed live at http://www.livestream.com/commonwealthclub.
U.S. Senator (D-MA); Chairman, Senate Foreign Relations Committee
Under Senator Kerry's leadership, the Senate Foreign Relations Committee addresses the key foreign policy and national security issues facing the United States, including Afghanistan and Pakistan, nuclear nonproliferation and global climate change. As nations across the Middle East face unprecedented political upheaval, Kerry will discuss current affairs in that region as well as a variety of domestic issues. A U.S. senator for nearly three decades and a former Democratic presidential nominee in 2004, Kerry has distinguished himself as one of today's most highly respected and influential leaders. Kerry has been a leading voice on a wide array of issues – from expanding health care to supporting small business – but his most notable work has been in regard to international affairs and national security. Kerry now chairs the very committee he notably testified before in 1971.
Please note lunch will be completed prior to start of program.

Location: SF Club Office
Time: 11:30 check-in and luncheon, 12:30 program
Cost: $50 members, $65 non-members