Past Event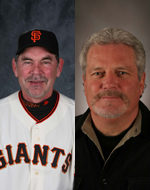 Thu, Feb 3 2011 - 12:00pm
San Francisco Giants' Bruce Bochy and Brian Sabean - Overflow seating
These tickets are for overflow seating in the Gold Room equipped with video screen showing the program. Regular tickets for this event are sold out.
Bruce Bochy, Manager, SF Giants; Two time National League Manager of the Year
Brian Sabean, Senior Vice President and General Manager, SF Giants
In conversation with Roy Eisenhardt
Now that they're the World Series champs, how can the San Francisco Giants stay on top and orchestrate a repeat performance in 2011? Come meet the people who strategized the Giants' World Series triumph and hear what's in store this season. Giants Manager Bochy and General Manager Sabean will take you behind the scenes and down into the dugout to give the lowdown on who's in, who's out, and what strategies will keep the Giants at the peak of their game.
Location: SF Club Office
Time: 11 a.m. check-in, noon program
Cost: $10 overflow seating.
Also know: Photos courtesy of the San Francisco Giants