Past Event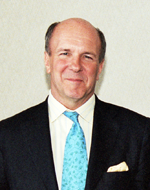 Sun, Nov 14 2010 - 3:00pm
Simon Winchester: Atlantic – The Biography of an Ocean
Author, Krakatoa, The Professor and the Madman and Atlantic: A Biography of the Ocean
Brian Hackney, Science Editor and host of "Eye on the Bay," CBS5 - Moderator
Come learn about the epic sea battles, natural phenomena and colorful personalities that have helped shape and traverse one of the world's largest bodies of water. A site of trade, exploration and natural resources that brought the discovery of new worlds and new peoples, the Atlantic Ocean has played an undervalued but crucial role in the development of the modern Western world. Bestselling author Winchester explores the meanings of this vast body of water for select communities and locations along the Atlantic seaboard from historic and scientific perspectives. A prolific author, Winchester has written a number of other works about the intersection of geological features and human evolution, including the national and New York Times best sellers The Map that Changed the World, Krakatoa and A Crack in the Edge of the World. Winchester also worked as a journalist for nearly 30 years and covered Bloody Sunday and the Watergate scandal during his time at The Guardian. Join The Club for an informative and lively discussion of the complex ways in which Earth's topography has changed human history.
Location: Acalanes High School Performing Arts Center, 1200 Pleasant Hill Road, Lafayette
Time: 2:30 p.m. check-in, 3 p.m. program, 4 p.m. book signing
Cost: $12 members, $22 non-members, $7 students (with valid ID)
Also know: Underwritten by The Bernard Osher Foundation. In association with the Lafayette Library and Learning Center.