Past Event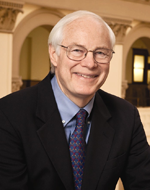 Thu, Oct 14 2010 - 12:00pm
Civility in a Fractured Society
This program is cancelled
Jim Leach, Chairman, National Endowment for the Humanities (NEH)
A former Republican congressman from Iowa, Leach believes that civilization requires civility. Since being appointed by President Obama as chair of the NEH, Leach has launched a 50-state civility tour to call attention to the disturbing growth of inflammatory political speech and discuss improving the quality of public discourse in America.
Location: SF Club Office
Time: 11:30 a.m. check-in, noon program
Cost: $12 members, $20 non-members
Also know: In association with the College of Humanities at San Francisco State University and The Club's Humanities Member-Led Forum. SFSU receive the Commonwealth Club member rate by using the coupon code sent to them in an e-mail or by calling (415) 597-6705 and giving the coupon code.