Past Event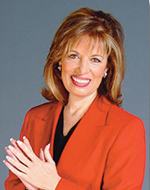 Tue, Aug 24 2010 - 6:00pm
What Is a Woman Worth?
Jackie Speier, Member of Congress, (D-CA)
Jan Yanehiro, Director of Multimedia Communications, Academy of Art University; Broadcast Journalist - Moderator
With more than 20 years in national, state and local political work, Speier has set precedents for women and what they are worth in creating state and national politics and policies. Currently, her work includes three pivotal congressional committees: Finance Services, Oversight and Government, and the Select Committee on Energy Independence and Global Warming. Join in this important discussion about the power of women's voices and actions during the unprecedented storm of turmoil, change, energy crisis, money and job uncertainty in the second decade of the 21st century.
MLF: Business & Leadership/Environment & Natural Resources
Location: SF Club Office
Time: 5:30 p.m. networking reception, 6 p.m. program
Cost: $12 members, $20 non-members
Program Organizer: Ann Clark